Sustainability at Hama
"Fair and liveable conditions for people and the environment"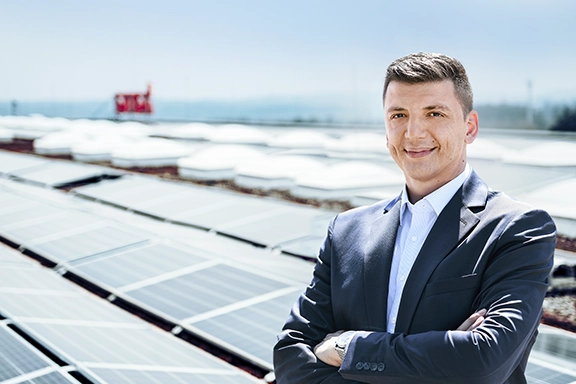 Attitude & goals
"Sustainability is the basis for ensuring a future worth living in. It safeguards the ecological, social and economic future, as well as competitiveness and commercial success.
Our vision is to achieve systematic defossilization. To do so, we are focusing on systematically increasing efficiency and using renewable energies and raw materials.
Furthermore, people are at the heart of what we do, and we take a holistic view to ensuring and maintaining an up-to-date, humanitarian duty of care for all employees."
Christian Sokcevic, CEO
We face up to our responsibility in terms of companies, products and supply chains. In doing so, we follow the UN's 17 sustainable development goals for people and the planet.
­Optimising the ecological footprint
Climate change presents us with particular challenges, which we intend to meet by optimising the ecological footprint of our headquarters (scope 1+2) and of our products and services (scope 3).
We have carried out a detailed assessment of the environmental impact of our head-quarters in Monheim, Bavaria with the aim of reducing CO₂ emissions and ecological damage.
Sustainable circular economy
We record the indirect emissions in order to identify and implement potential for reduction in the supply chain and in the logistics and packaging area. The aim is to conserve resources and enter into a sustainable circular economy.­
Sustainable products and packaging
As a leading brand manufacturer, we are aware of our great responsibility towards people and our environment. As an important contribution to the preservation of our livelihoods and in order to live up to this high level of responsibility, we place a special focus on the sustainability of packaging and products.
More about our sustainable products
Next steps to reduce carbon footprint
Further increase in the proportion of electricity generated ourselves from renewable sources, including commissioning a fourth CHP
Conversion of the fleet and our business travel to more sustainable forms of mobility
Avoiding raw materials and components from fossil sources and instead giving preference to recycled and bio-based raw materials
Determining the product carbon footprint (PCF)
Our worldwide network of supplier and production sites is being consistently and bindingly integrated into the Hama sustainability concept
General compliance with humanitarian duty of care, now with a greater focus on environmental and climate protection measures
Summary
Transparent recording of overall environmental and climate performance at company, product and supply chain level using sustainability key figures
CO₂ emissions will be reduced together with our production partners
Any remaining, currently unavoidable CO₂ emissions will be selectively offset by means of certified CO₂ compensation projects
Since 2019, more than 10,000 tonnes of CO₂ have been offset and compensated for through our cooperation with ClimatePartner